Make precious memories that last with holiday fun throughout the Southeast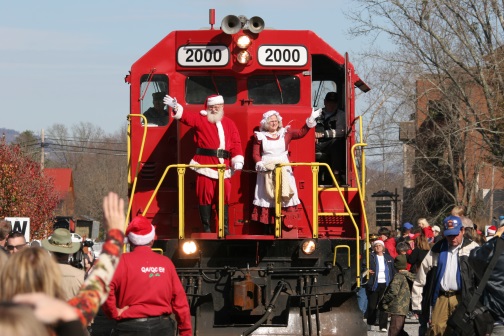 Get into the HO HO HOliday spirit with a tour of the South's finest Christmas festivities. Between world-renowned twinkling lights, shopping fit for Jolly Ol' St. Nick himself and train rides that dazzle the imagination, these Southern adventures are sure to be forever etched into your family's favorite yuletide memories.
Albany, GA 
Get ready for some festive gift foraging at Chehaw's second annual Holiday Market in Albany, Georgia, November 30. Browse among a variety of offerings from local artisans, shops and boutiques. Then, go full steam ahead into the holiday season at Chehaw Park's Festival of Lights. Climb aboard the nighttime train or blast some Christmas tunes in the car and drive through the thousands of light displays during the month of December. This holiday adventure is truly one-of-a-kind because the park's master welder and his team handcraft each sparkling fixture. Roll into holiday fun at the Celebration of Lights Christmas Parade. This nighttime spectacle is the region's largest Christmas Parade, drawing tens of thousands of each year. Watch the dozens of illuminated floats as live musicians play holiday favorites, ushering in the spirit of the season. www.VisitAlbanyGa.com.
Alpine Helen-White County, GA
Take your holiday to new heights with magical events in Alpine Helen, a Bavarian beauty set in the Northeast Georgia Mountains. On November 18, head to Babyland General hospital to see the birthplace of the Cabbage Patch Kids and then experience a hospital meal you'll never forget–a pancake breakfast with Santa, www.CabbagePatchKids.com. You'll have no problem getting into the holiday spirit at the Annual Lighting of the Village in Downtown Helen. Santa and Mrs. Claus kick things off as live music fills the mountain air on November 24, www.HelenGA.org. Fill up your shopping bags at Helen's 10th annual Christkindlmarkt, a German tradition where the center of town is filled with booths offering specialty gift items, decorations, assorted savory food, drinks and candied treats, December 2-3 and December 9-10, Helen Market Platz, www.HelenChamber.com. Make a day trip to witness floats, bands and costumed characters during The Helen Christmas Parade, as it winds through downtown at 2 p.m. on December 9, www.HelenGA.org. For a nighttime experience, don't miss the Annual Christmas in the Mountains Lighted Parade as it brightens up Downtown Cleveland on December 2, www.WhiteCountyChamber.org. When Christmas is over, break out the party hats and ring in 2018 with the Dropping of the Edelweiss New Year's Eve Event, December 31 at Helen's Festhalle. Munch on hors d'oeurves, listen to music, clink glasses and toast to the New Year, www.HelenChamber.com. www.HelenGA.org
Americus, GA
All aboard for holiday fun! On Saturday, December 2, climb in and take a seat on the SAM Shortline in Americus, Georgia. Chug along in 1949 Vintage cars to the historic and quaint town of Plains–home of President Jimmy Carter. The President and former First Lady will flip the switch to brighten the town for the annual Christmas Lighting. In the warm glow of the lights, enjoy Christmas music and activities in this charming slice of the South. While riding back to Americus, make sure you have your Christmas wish list ready, as Santa Claus himself will make his way throughout the old-fashioned railroad car. Stay in town a while because on December 7, the Americus Christmas Parade rolls out all the stops. Watch in wonderment as the 75 floats, live music and special guests process through town, spreading good cheer, VisitAmericusGA.com.
Blue Ridge, GA
The holidays march off to a spirited start in Blue Ridge, Georgia. Santa and Mrs. Claus parade through town November 25 for Light up Blue Ridge. Enjoy festivities throughout the day, including live band performances, caroling, refreshments and the lighting of the great Christmas tree in the downtown area. While in town, fill up your own sleigh by shopping the Holiday Art Show and Sale. Pick out regional art and handmade crafts for the special ones on your list. The Sale runs from November 18-January 6. For more information, call (706) 632-2144. You're sure to be "laughing all the way" aboard the Santa Express Train offered through the Blue Ridge Scenic Railway. While on board, hear "Twas The Night Before Christmas," sing Christmas carols and, of course, enjoy a meet and greet with the Jolly Ol' St. Nick! The train takes off November 24 and rides throughout December. www.BlueRidgeMountains.com.
Capital City/Lake Murray Country, SC
Delight in Fir Trees among the Palm trees in the Palmetto State's Capital City. From November 22-December 31, enjoy Holiday Lights on the River at Saluda Shoals Park. This part of Columbia comes alive with a blaze of more than a million sparkling lights. The drive-through light display boasts more than 400 themed animated fixtures of all shapes and sizes on the two-mile loop of the park, icrc.net. Step back in time and celebrate the Christmas of yesteryear at the Holiday House Tours of Historic Columbia. These historic house museums are gorgeously decorated and offer a glimpse into holiday celebrations in the 19th and early 20th century Columbia. Take in the greenery, November 17-December 30, while guides tell stories of holidays past. For more Historic Columbia fun, on December 15, take a Candlelight tour of the Hampton-Preston Mansion and Robert Mills House. Relish the live music, children's activities and even take a carriage ride through the district. On December 16, have Breakfast with Santa at the cozy Robert Mills Carriage House. See a Victorian Christmas Tree and make crafts to take home, HistoricColumbia.org. From November 18-December 30, take a walk on the wild side at the Lights Before Christmas at Riverbanks Zoo. With nearly one million twinkling lights, nightly visits with Santa and a jingle bell bonfire, memory-making opportunities await around every corner, Riverbanks.org. www.LakeMurrayCountry.com
Cartersville, GA
Beat the winter blues in Cartersville, Georgia,  where the holidays reign supreme. Check all the good boys and girls off your holiday shopping list during the Christmas Village, November 3-4, at the Clarence Brown Convention Center, featuring 70 booths containing everything from baby items, books written by regional authors to hand forged knives and more. It's not the Christmas season without attending the Annual Open House at Grand Oaks. On November 19, take in the grandeur by exploring this historic antebellum home dressed up for Christmas. Make memories at the Christmas Lights Display, featuring live reindeer–Comet and Cupid, at Pettit Creek Farms, November 23-December 30. Santa Claus visits with children Thursday-Sunday. A live Nativity can also be seen on weekends. Warm up with hot chocolate, cider, marshmallows for roasting and s'mores kits. Throughout December, The 1902 Stock Exchange and Public Square Opera House will present "Every Christmas Story Ever Told," a dinner theatre featuring a trio of rambunctious performers who try to cover all the bases when, instead of performing Charles Dickens's beloved holiday classic for the umpteenth time, they decide to perform every Christmas story ever told. The result is a madcap romp through the holiday season and an evening full of memories and laughter. Or, catch a performance of The Nutcracker, a beloved holiday classic presented by the Cartersville School of Ballet the first weekend of December. The Grand Theatre, established in 1910, as a cultural center for Cartersville and Bartow County, offers a series of events featuring holiday, comedy and bluegrass performances, all certain to make the season shine. Plan a visit to take in the sparkling seasonal sounds of the Atlanta Pops Orchestra Holiday Classics on stage at The Grand, December 9, 2017. VisitCartersvilleGA.org.
Columbus, GA
The Christmas spirit takes hold of Columbus, Georgia, before the leaves even begin to fall. This inviting Southern town is the home of The Ludy Christmas Spectacular. The Ludy family starts decorating in August and mesmerizes guests from both near and far with their 155,000 lights. The show stopping home was featured on ABC's "The Great Christmas Light Fight." On December 3, the Annual Bi-City Christmas Parade pulls out all of the stops as it marches through town. On the same day, Historic Columbus celebrates the holidays through music, history and architecture with the 2017 Holiday Home Tour. While in town, glide your way into making more Christmas memories that last at the Columbus Georgia Ice Rink. www.VisitColumbusGa.com.
Ellijay, GA
The Christmas season turns Ellijay, Georgia, into one of Dr. Seuss' most notable fictional cities–Whoville. Wave to the Grinch and Santa Claus as the Elli-Whoville Christmas Parade rolls through town during the Whobilation on November 24. All of Downtown Ellijay will be decorated in a Whotastic theme to celebrate the holidays. The Whobilation will begin at noon with vendors and shopping specials from local merchants and restaurants. The tree lighting will be at 5:30 p.m. and the parade at 6 p.m. After the parade, be sure to get your picture made with Santa. With a full day of fun with the family, you'll be reminded of the Grinch's discovery that, "Christmas…perhaps…means a little bit more!" www.GilmerChamber.com.
Henry, GA
There's more nighttime fun to be had during the Christmas Parade in Hampton, Georgia, at 7 p.m., December 9, followed by an open house at 9 p.m. www.VisitHenryCountyGeorgia.com.
LaGrange, GA
No need to travel to Bethlehem to peek into the very first Christmas.
Biblical History Center in LaGrange takes guests on the journey with their Follow The Shepherds Walks. Trace the steps of Joseph and Mary as they travel from Nazareth to Bethlehem and learn new insights into the Christmas story in one of the most authentic settings this side of Israel. Every Friday and Saturday night up to Christmas Eve.
Throughout the month of December, celebrate the Holidays at Hill & Dales Estate. This historic Southern mansion is adorned with the complements of the season. Gaze at the Christmas tree styled circa 1940 and feel old-fashioned merriment. On December 2, learn how to decorate for the holidays like a pro at the Mixed Green Christmas Wreath Workshop where the staff will help guide you in creating a wreath using a variety of elegant, fresh evergreens and berries. On December 16, it's the Children's Christmas Celebration, where kids can create their own gingerbread house; participate in a Christmas sing-a-long, story time and visits with Santa, www.HillsAndDales.org. www.LaGrangeSymphony.org
Embrace the spirit of the season and join the LaGrange Symphony Orchestra for their annual Christmas Concert on December 12 at Callaway Auditorium on the campus of LaGrange College. Special guest artist Jason Coleman, the grandson of famous pianist Floyd Kramer, will add his uncanny reflection of the signature stylings of his Grandad to a variety of holiday favorites.
Watch and hear warming musical tributes to two of O Henry's short stories at New Horizon Theatre. Gifts of the Magi runs December 14-16 and Once Upon a December, a 90 minute musical extravaganza, is December 21, www.nhct.org. www.LaGrangeChamber.com.
Martin County, FL
Can't wait for the Christmas season? You don't have to in Martin County, Florida. Get a head start on that Christmas list with the Shop-A-Palooza Sidewalk Sale, November 18-19. Find holiday treasures at the 25-plus shops adorning the streets of Historic Downtown Stuart. On November 24, things heat up at the Christmas on Main Street Tree Lighting Festival. Delight in an ornament decorating station, face painting, balloon art, a living manger, petting zoo and take a picture with Santa and Mrs. Claus. Then, just after sunset, feel the warmth from the hundreds of lights that fill the official Stu­art Hol­i­day Tree. The Stuart Christmas Parade makes Christmas magic on December 1 with unforgettable floats. On December 9, the 37th Annual Martin County Parade sets sail as mariners decorate their vessels and cruise the local waterways. Watch the maritime spectacle from restaurants, docks or many places among the shoreline, www.miatc.com. It's not the holiday season without tempting the taste buds. Delve into delicious eats at A Taste of Jensen on December 12. This sell-out event is complete with live music, holiday shopping and old-school Florida charm. www.DiscoverMartin.com
Oxford, MS
The Oxford Square Alliance in Oxford, Mississippi, welcomes guests November 24 for the Holiday Open House, including the tree lighting on The Square. Sit back and be dazzled by a double performance at the Ford Center on December 1. First, become immersed in one of the most popular operas of all time, Amahl and the Night Visitors. This classic tells the story of how faith, unselfish love and good deeds can work miracles. For the second half of the evening, feel the overwhelming awe of Handel's Messiah. On December 7, raise a paddle high to elevate the look of your tree at the Holiday Ornament Auction. The Arts Council's holiday party invites guests to bid on handcrafted décor while sampling the area's most scrumptious delicacies, www.OxfordArts.com.  Catch a performance of Mr. Popper's Penguins, December 13 at The Ford Center. As the temperature begins to drop, the Southern college town starts to resemble Santa's workshop at the North Pole. Take a stroll in the calm of the Gingerbread House Village, located at the Ford Center. In what is becoming an Oxford tradition, gingerbread crafters use innovation with a dash of whimsy to create this tiny wonderland every year, www.VisitOxfordMS.com.
Thoroughbred Country, SC
Jingle all the way through the holiday season in Thoroughbred Country, South Carolina. The festivities kick off December 1-2 at North Augusta Tour of Homes. The candlelight tour is on Friday evening and continues Saturday with day tours. Six show-stopping houses will be featured on the Christmas Tour. Tour of Homes guests are also invited to peruse the Arts and Heritage Center's Galleries and Gift Shop while enjoying refreshments and holiday music, www.ArtsAndHeritageCenter.com. The Aiken Community Playhouse will put a smile on your face with the hilarious holiday classic, 'The Best Christmas Pageant ever." This Christmas comedy features a couple struggling to put on a church Christmas pageant when they are faced with casting the Herdman kids–probably the most inventively awful kids in history. You won't believe the mayhem–and the fun. Shows run December 1- 2, 8-9 and 15-16 at 7:30 p.m. and December 10 at 3 p.m., AikenCommunityPlayhouse.com. On December 7, feel a glow in your heart at Night of 1,000 Lights. Luminaries line the streets of Aiken's quaint downtown, as shops stay open late and offer holiday treats, drinks and music for a festive evening out. Take your Christmas experience back hundreds of years at the 5th Annual Madrigal Dinner: A Renaissance Yuletide Feast. Delight in a rustic dinner and dessert as local musicians perform period music and Christmas carols on December 8. That same evening, the St. Petersburg Piano Quartet fills the Aiken air with its sweet notes. Since their founding in 1985 this quartet has blazed a trail through international chamber music competitions in the Soviet Union, Tokyo, Italy and Australia. The Aiken Symphony Orchestra strikes a chord with their annual Home for the Holidays concert, December 10, complete with Christmas tunes and an audience sing-a-long.  www.TbredCountry.org 
West Volusia County, FL 
As holiday happenings go, there is nothing quite like the Stetson Mansion, decked out in full regalia for its annual Christmas celebration. The Stetson Mansion Christmas tours are the highlight of any holiday visit to DeLand and the West Volusia region. This Victorian mansion on Florida's first-ever luxury estate is open daily for tours (advance reservations required) which offer a step back in time. The annual holiday tours are conducted from mid-November through mid-January and decorations change each year. For a simpler celebration, the Barberville Pioneer Settlement offers A Florida Christmas Remembered. The one-day event is held on the grounds of this charming village and features living history demonstrations, children's craft projects and appearances by Mr. and Mrs. Claus. Live music provides entertainment throughout the day, including the sounds of carolers and a hand bell choir. Highlighting more contemporary locations, the Lake Helen Christmas tour takes visitors through a number of homes and churches as well as historic buildings. This year's event is December 9-10 and includes refreshments and additional activities sure to ignite the holiday spirit. The Athens Theatre, a classic American theatre in the heart of downtown DeLand, joins in the holiday celebration with its presentation of "A Christmas Story." The Tony-winning Broadway smash hit will bring its quirky holiday tale to this historic gem of a theatre, which opened in 1922 and became the centerpiece of this Central Florida region. Shows will run November 30 through December 17 and offer a delightful holiday outing for the entire family. www.VisitWestVolusia.com
From modern light spectacles to old-fashioned fun, these Southern destinations hold the key to unlocking Christmas cheer.