From cozy wineries to a Black Bear Plunge, find warm inspiration for experiencing this North Georgia destination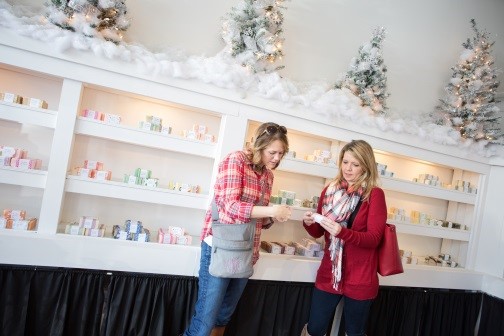 When Jack Frost comes nipping at your nose, make plans to bundle up in beautiful Ellijay, Georgia, where both forests and fireplaces beckon, about 80 miles north of Atlanta and 65 miles from Chattanooga, Tennessee.
1.) Snuggle up in a cabin by the fire or in a hot tub. Ellijay offers an array of affordable rentals for couples or families of any size. Try sleeping in a vintage Airstream or geodesic dome at Elatse' Yi. Whether you're looking for a night under the stars at one of the area's many campsites, a hotel room or a charming bed and breakfast, Ellijay can accommodate every overnight need.
2.) Sip your favorite latte at Georgia's cutest coffee shop. The Ellijay Coffeehouse is as warm and friendly as it is inviting. Start the day right and curl up on the couch with an Appalachian Sunrise sandwich and fresh-roasted espresso. Afterwards, head to In the Woods where you can take pottery lessons or try Whistletree Pottery and add your own touch of creativity while painting an earthenware bisque pottery piece to take home. Or, purchase a piece of pottery crafted by regional artists.
3.) Take advantage of the winter view. Gilmer County and its surroundings are home to 11 mountain hiking trails, 59 mountain bike trails, several impressive waterfalls and some of the best trout waters in the Southeast. The best mountain views are experienced in the wintertime, when the leaves are off the trees. This time of year, take in all of the scenery when you hike the Bear Creek Trail or climb the path to Amicalola Falls.
4.) Cozy up with a glass in a toasty tasting room. Whether you've been dying to try Chateau Meichtry, Cartecay Vineyards or Engelheim Vineyards, you can enjoy a sparkling white or rich red while you warm up in any of these vineyards' tasting rooms. These vineyards rest in the beautiful foothills of the Appalachian Mountains, which provide the ideal location for growing quality wine grapes. Each winery is set in the picturesque countryside, surrounded by orchards of all varieties, making it impossible to just visit one.
5.) Grab your kayak for the annual Chili Run. Pack a wetsuit and work up an appetite on Ellijay's annual Chili Run, hosted by Cartecay River Experience, a unique way to ring in the New Year on the Cartecay River.
6.) Feed the soul with Cantaberry Restaurant's famous tomato bisque.There's nothing like fresh soup on a cold day, and Cantaberry's tomato bisque is legendary in these parts. Make sure to snag a cup or a bowl before you leave town.
7.) Shop small with Georgia-made wares. Find pickled products, candles, textiles, soaps and more at New Ground Market or try Green Willow Soap for handmade, all-natural beauty items. Pick up unique gifts for everyone on your list at downtown Ellijay's myriad locally-owned businesses.
8.) Stay warm all winter with fresh apple cider. Ellijay is home to heirloom apple orchards and produces some of the world's best cider. Purchase by the gallon to satisfy cravings throughout the new year.
9.) Get a brisk start on the New Year at the annual Black Bear Plunge. Each year, Fort Mountain State Park hosts their annual Black Bear Plunge, where bathers dash into the icy water of the park's lake to provide a refreshing beginning to the upcoming year.
10.) Catch a performance at the George Link, Jr. Gilmer Arts Playhouse.See Levi Lowrey perform, 7:30-9 p.m., December 16. His two-disc Roots and Branches is a majestic record. Lowrey is a former member of and opening act for the Zac Brown Band and co-writer of the ZBB hits, "Colder Weather" and "The Wind.
Make plans to return next year. Whether you prefer the fresh greenery of spring, the warm air of summer, the crisp leaves in autumn or the snowy mountains in winter, Ellijay-Gilmer County is your year-round destinations for unique shopping, dining, outdoor adventure and relaxation in Appalachia. Start planning your visit at www.ExploretheMountains.com now!